Struggling to keep up with the influx of daily news around the Web? Wish you had some kind of magical app that collects the latest articles from your favorite sites and blogs, and puts them all in one place for you to read?
Welcome to the wonderfully convenient world of RSS readers, where switching browser tabs willy-nilly becomes a thing of the past. In this article, we're going to cover 10 of the best RSS readers you can use to bring peace and order to your browsing routine.
RSS, short for "Really Simple Syndication" (or alternatively, "Rich Site Summary"), is a Web content syndication format based on XML that lets you grab a summary of the latest updates to any given website. RSS feeds can be presented in different ways by an RSS reader, which is software that enables a birds-eye view on everything new that's been posted on your favorite sites since you last checked.
By using any of the top RSS feed reader apps listed below, you will not only save precious time, but also make your overall browsing experience much more palatable and easier to manage.
Without further ado, here are our top 10 RSS readers of 2020 – both free and paid, and variously available on Web browsers (Firefox, Chrome), desktop (Windows, Linux, MacOS), and mobile (Android, iOS, Windows Phone).
Top 10 RSS Reader Apps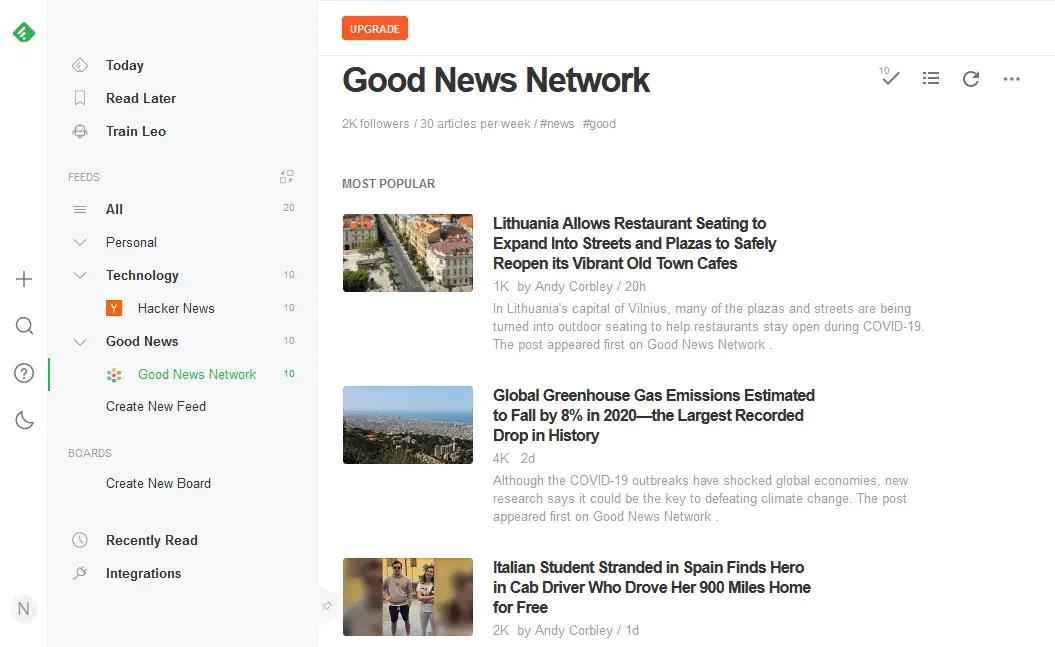 At the top of the list is Feedly. This is no coincidence, as Feedly is highly rated for several reasons. First, the site is exceptionally clean and clearly designed by pros. The simple, uncluttered interface makes navigation stress-free and easy on the eyes, as every good RSS reader should be. If you are a casual user and you want to see all the available information about a niche of your choice, this online feed reader makes it a breeze.
The platform offers a free plan which comes with all the essential features of an RSS reader. With the free plan, Feedly allows you to follow feeds from up to 100 different sources, categorized into 3 separate feeds. For zero cash, this should be more than enough for personal use.
Feedly also offers premium plans called Pro, Pro+, and Business. These plans come with a number of perks, such as the ability to follow 1000+ sources, removal of duplicate feed articles, content summarization, feed sharing and collaboration, and advanced search functionality (with Leo the AI assistant). If you are a media professional or researcher and you want to get the best out of Feedly, then the premium plans are indispensable.
Pricing: Free / Pro ($72/year) / Pro+ ($99/year) / Business ($216/year).
Platforms: Web browser and Mobile (Android, iOS).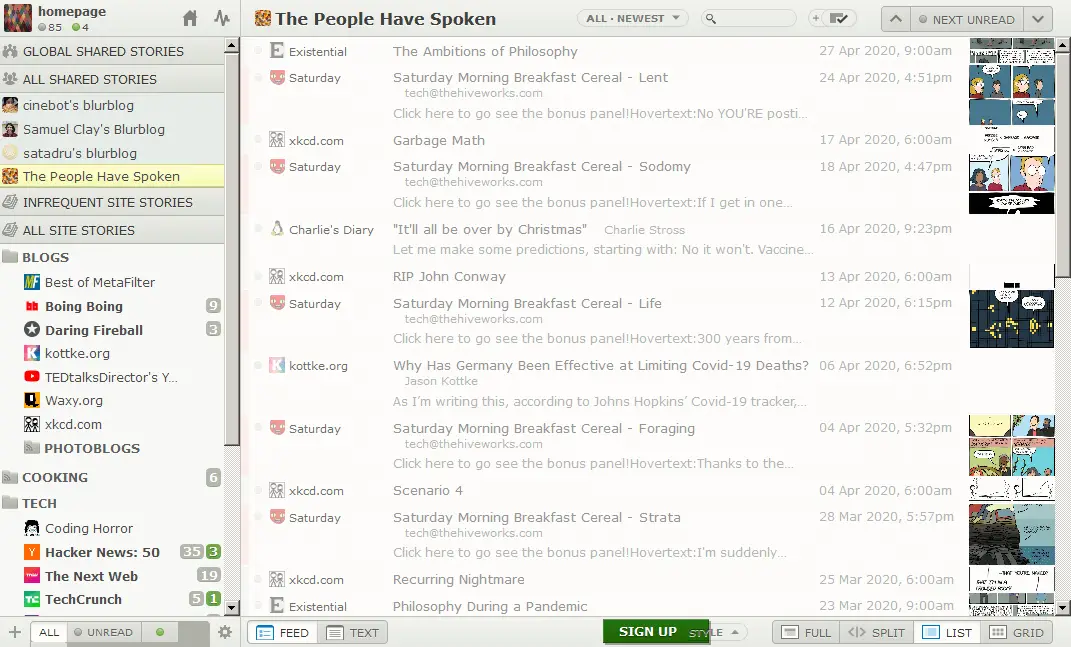 Another excellent RSS feed reader we can recommend is NewsBlur. NewsBlur is a well-organized personal news reader which lets you easily filter out any content you don't want to see. They provide several different kinds of accounts and with a free account from this platform, you're allowed up to 64 different feeds and the ability to read full-text content of other sites from within the app.
You can also save any articles for later, which is useful when building up a reference library of resources. The site is organized such that there is little need for clicking around aimlessly. The articles to read are often displayed one after the other so that you can easily scan and skim as you go.
A noteworthy feature is the filtering capabilities. With NewsBlur's feed filtering, it becomes much easier to hide irrelevant material and display only the stories you want. To this end, NewsBlur lets you 'train' your feed, by thumbing up or down certain aspects like authors and categories, or even whole sites. Over time, your feeds will serve only what you're specifically interested in – a huge timesaver.
Another great feature is the ability to share your saved stories on your own public "blurblog", which you can easily share with friends, colleagues, and the world at large.
The premium account is recommended for serious RSS users because you will get access to unlimited feed subscriptions. It also comes with full search functionality, story tagging, private sharing, and a much higher feed update rate.
NewsBlur is an open-source RSS reader app, so if you don't want to sign up for the paid plan with NewsBlur itself, you can still use to its full potential by installing it on your own server at no cost (besides your hosting fees, of course).
Pricing: Free / Premium ($36/year).
Platforms: Web browser and Mobile (Android, iOS).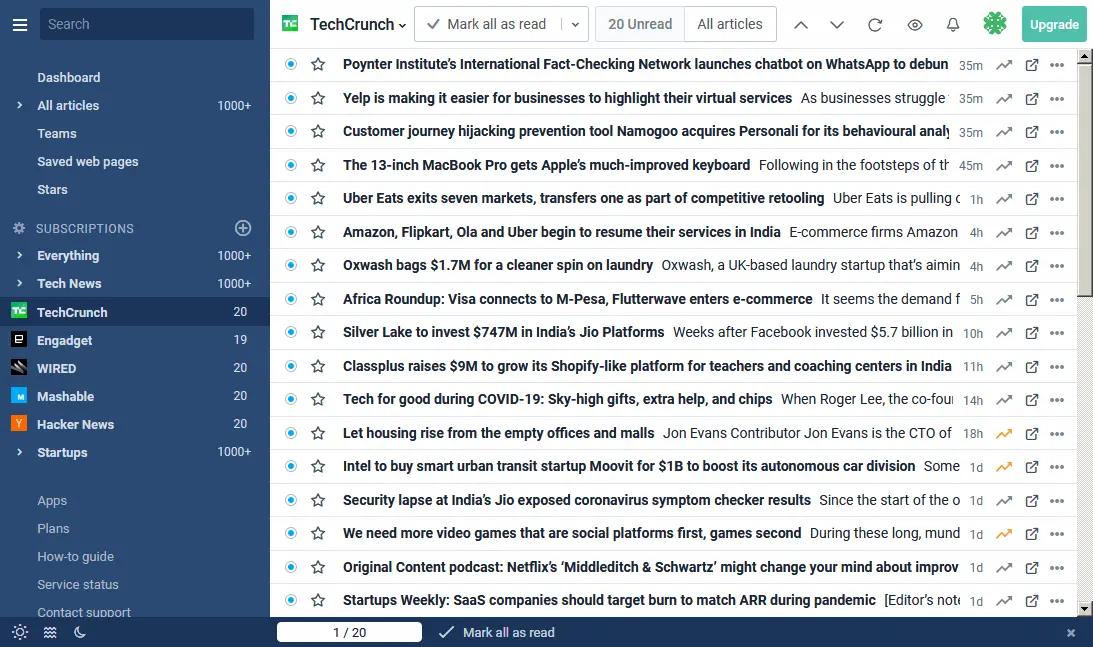 Inoreader is a popular web-based RSS feed reader with top-notch support for all kinds of feeds including standard RSS, podcasts, Twitter, Facebook, and email newsletters. Not only that, but it's also widely supported on all major web browsers as well as Android, iOS, and Windows Phone. As one Inoreader customer states, "It's an RSS reader on steroids."
This powerful RSS reader comes with a free version that allows up to 150 subscriptions with features including text search, keyword highlighting, automatic removal of duplicate RSS feed items, and more. The free version is limited but still incredibly useful. The downside is that you will, unfortunately, see ads.
If that's not good enough for you, then there's always the paid plans to consider. For example, when you subscribe to the Pro plan you can enjoy unlimited subscriptions along with super cool features such as automation with conditional logic ("Rules"), subscriptions to non-RSS Web feeds, and integration with Zapier and IFTTT.
Pricing: Free / Supporter ($19.99/year) / Pro (49.99/year) / Custom.
Platforms: Web browser and Mobile (Android, iOS, Windows Phone).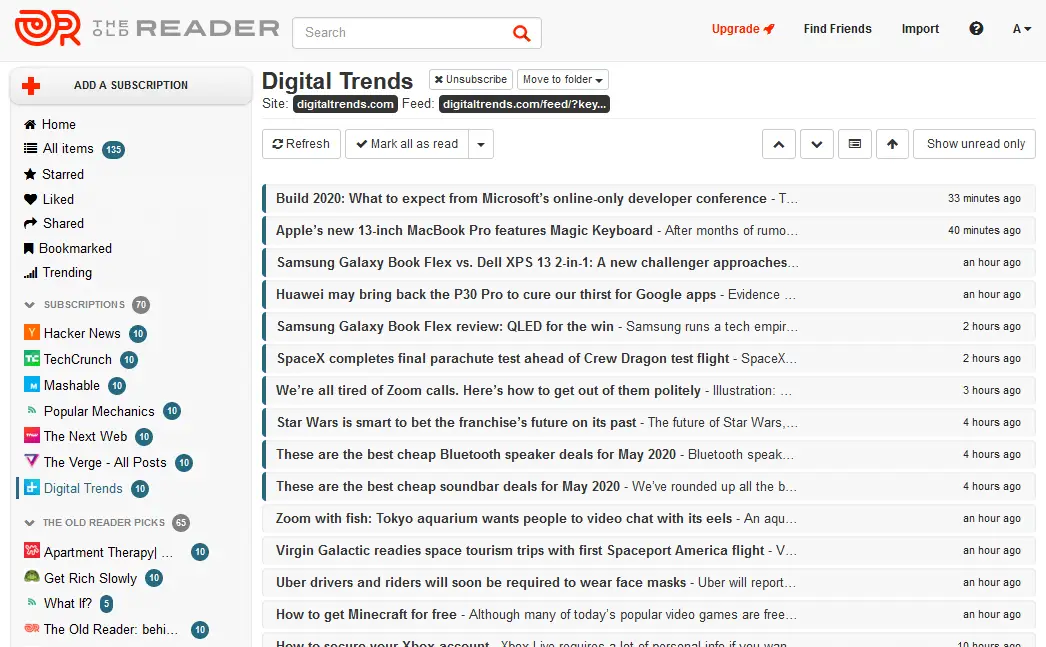 The Old Reader is an RSS reader that stands out for its clean interface and blissful simplicity. If you are looking for an online feed reader with a social element that helps you share content and get recommendations from others then look no further.
By integrating your Google or Facebook account, you can easily discuss shared RSS posts with your fellow Googlers and Facebookers from within the app. And even if you don't opt for social integration, The Old Reader helpfully curates populate content through the trending tab.
Other than the social aspect, The Old Reader does what it's supposed to do – organize your online RSS feeds – and it does it well. No frills and no clutter.
Pricing: Free / Premium ($25/year).
Platforms: Web browser / Desktop (Windows, Linux, macOS) / Mobile (Android, iOS, Windows Phone, Symbian).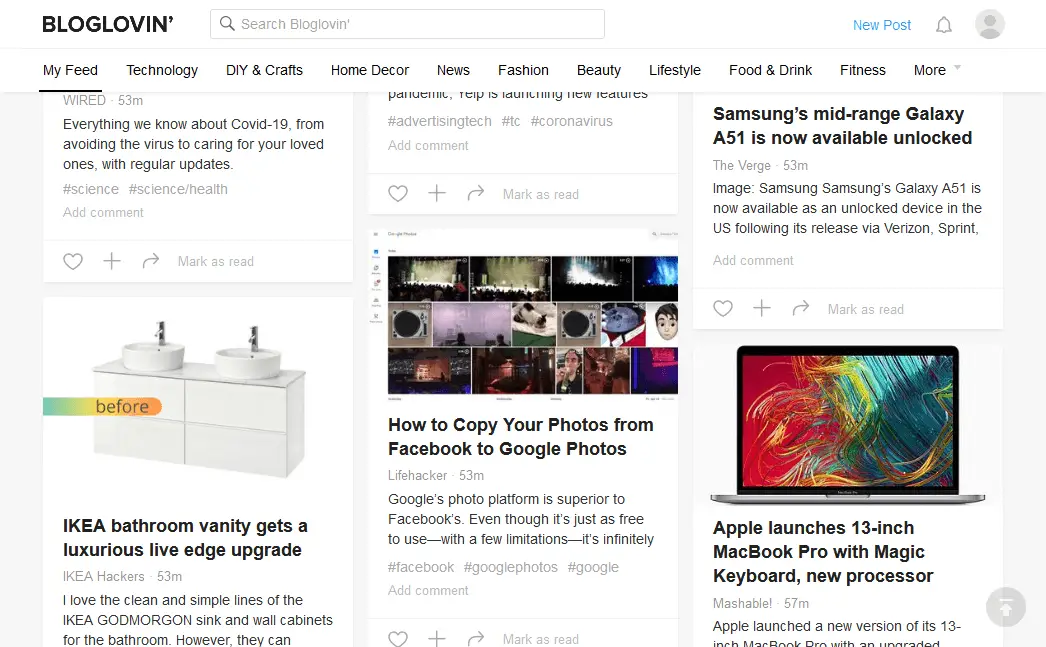 Bloglovin' is an online RSS reader with a focus on the discovery of topics such as lifestyle, fashion, and modern living. You can think of it as the Pinterest of RSS.
The app makes it easy to follow your favorite news sites, publications, and blogs. It is clean, easy to navigate, and takes some design inspiration from social media sites. The card layout is a great way to discover and organize the content that you're interested in.
Much like Pinterest, the Bloglovin' reader helps you create your own personal collection of fun ideas, interesting articles, and any other content that floats your boat.
Pricing: Free!
Platforms: Web browser and Mobile (Android, iOS).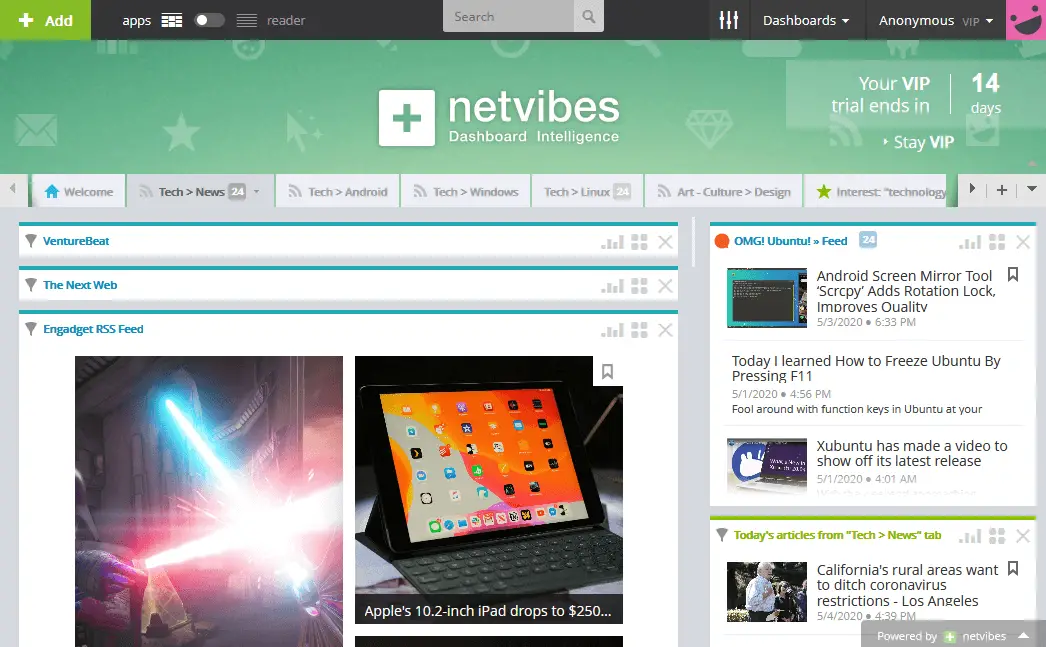 If you are a marketer and you want to keep your finger on the pulse of what's happening around your brand and industry in terms of content creation and trends, then Netvibes is for you. It is designed to help you not only organize your various social and web feeds, but also automate and analyze them to assist you in making sense of it all.
For personal use, the free plan works great as a standard RSS reader, but it's true strength lies in its paid options. It can integrate with more than 38 trigger apps including the ever-popular Medium, Twitter, Reddit, and Slack. With just the right setup, Netvibes' comprehensive dashboard will increase your productivity tenfold when it comes to brand monitoring, trends research, and social media management.
Pricing: Free / VIP ($2/month) / Premium ($649/month) / Custom.
Platforms: Web browser and Mobile (Android, iOS).
FlowReader is an online-only RSS feed reader that aims to combine your RSS feeds with your social feeds in one handy, centralized dashboard. It's a great RSS and social news aggregation tool to help you share what's important to your friends and followers.
What FlowReader lacks in features, it makes up for in deliberate simplicity and elegance. With this reader, you can subscribe to as many news feeds, blog feeds, and social feeds as you want. As with most RSS readers, it displays updates in chronological order by default and includes nifty features such as category organization, keyboard shortcuts, and custom sorting.
Pricing: Free!
Platforms: Web browser.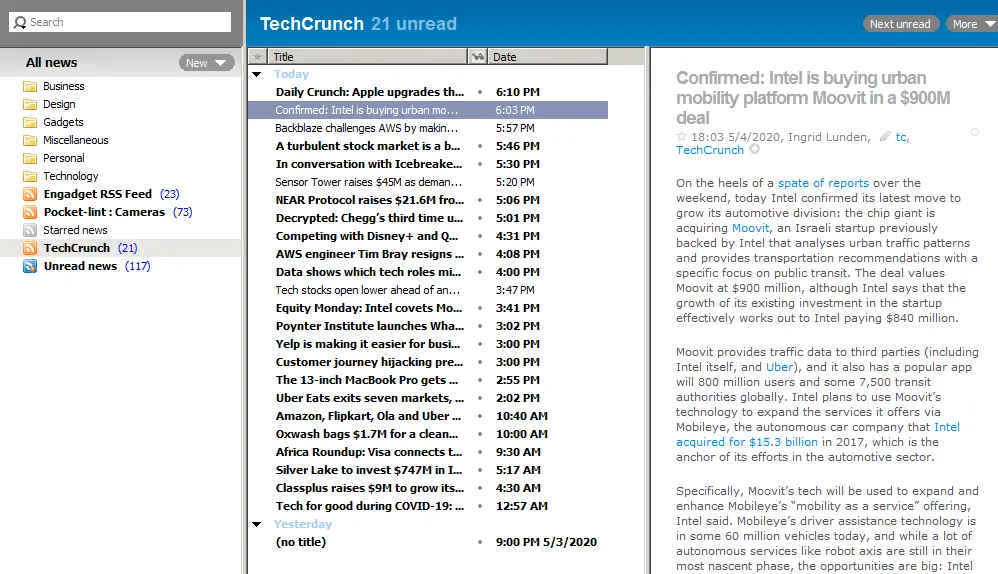 Feedreader is a free desktop RSS reader for Windows and Linux (with an optional online RSS reader) that does not tolerate clutter.
It's designed to help you organize your RSS feeds with a simple, solid interface that has everything you need to manage your feeds, and nothing more. It makes the content available to you in two forms – collapsible or expanded – and hosts the typical sorting and categorization functionality you can expect from any decent RSS news aggregation software.
Pricing: Free!
Platforms: Web browser and Desktop (Windows, Linux).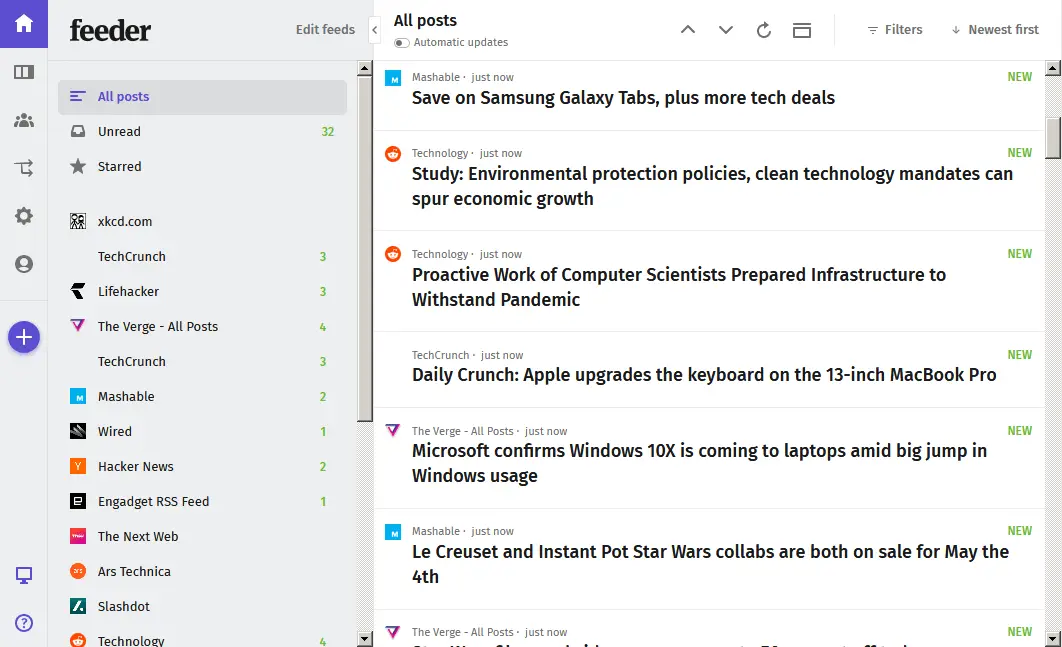 Feeder is a terrific RSS feed reader that's very popular with businesses and brands, but which also comes with its own free version that's ideal for personal use. It's got a slick, clean design with an intuitive interface, and the pricing is right on point when it comes to the paid options.
As with most modern web-based RSS readers, you will have access to the standard RSS feed aggregation features including sorting, filtering, categorization, sharing, notifications, plus a whole lot more.
Pricing: Free / Pro ($4.99/month) / Business ($15/month).
Platforms: Web browser (with add-ons for Firefox, Chrome, Safari, Yandex) and Mobile (Android, iOS).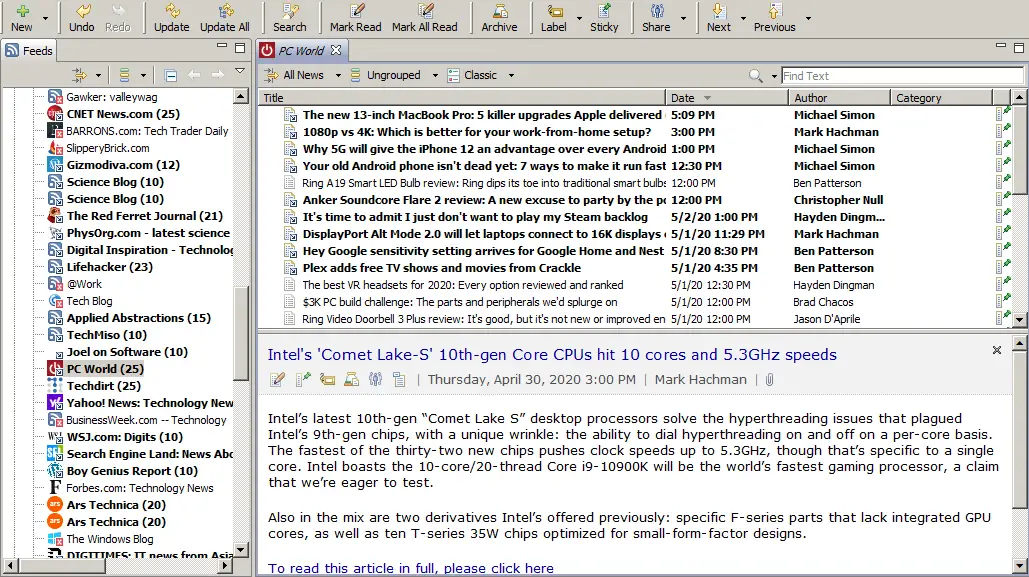 RSSOwl is a cross-platform news aggregator for RSS and Atom feeds, designed for easy browsing and organization of news feeds on your desktop PC. Amazingly, the RSSOwl software is completely free and you can download and use it with no restrictions.
RSSOwl comes with a good deal of features that every decent RSS feed reader should include, such as text search, saved searches, automated filtering, keyword labels, and notifications.
Pricing: Free!
Platforms: Desktop (Windows, Linux, Mac).
Conclusion
Choosing an RSS reader is a deeply personal decision, and sometimes the best RSS reader for one person is a terrible choice for another. Hopefully this list of the top RSS feed readers out there has proven useful to you in making the right call.
If you know of any other options that deserve a mention, please go ahead and give a shout-out in the comments.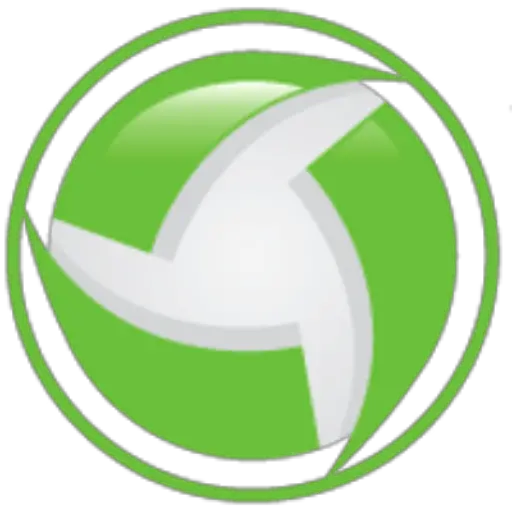 Tom Davis is a technical contributor at TechWombat. He enjoys writing on IT, open source, electronics, and other geeky arcana. Tom's always happy to reply to comments and corrections, so be nice and send him your thoughts at tomdavis@techwombat.com or in the comment section below.